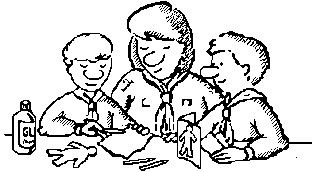 Welcome to the Squirrel scout pages of our Group website.
Squirrels are boys and girls aged 4 to 6 years. The newest and youngest members of the Scouting family they are full of energy and excited to learn new things.
Every week, Squirrels will gather to grow and learn their way through lots of different games and activities. Squirrels can achieve anything they set their minds to – and they have lots of fun along the way.
Our Drey has not yet opened but we are taking expressions of interest and looking for additional adults to make this happen. Subject to sufficient interest and adult support, we are looking to open the Drey in the spring of 2022.
We look forward to meeting you soon.
Kate Coulter
Squirrel Scout Leader
For more information about squirrel scouting visit the Scout Association website for squirrels.
To join squirrels in Walsall Wood contact the team by E-mail.

Or call 0844 414 2438
Our leadership team currently consists of the following, more adults are always welcome:
Kate Coulter (Squirrel Scout Leader)
Louise Lilley (Squirrel Sectional Assistant)