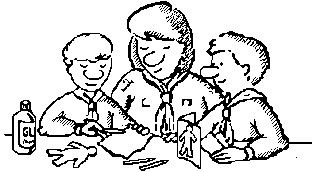 Welcome to the beaver scout pages of our Group website.
Beavers are boys and girls aged 6 to 8 years. The beaver motto is Fun and Friends and that is exactly what we do! Achieving the many badges available along the way, our Beavers learn many things among friends, new and old.
We have a very energetic colony of girls and boys who have been having a great time recently. Please click the gallery link to see what we've been up to. If you want to know what is coming up or wish to know more about joining our colony then please get in touch below
A fun filled time is guaranteed with our great team of volunteers adults.
We look forward to meeting you soon.
Kerry Davies
Beaver scout leader
For more information about beaver scouting visit the Scout Association website for beavers.
To join beavers in Walsall Wood contact the team by E-mail.

Or call 0844 414 2438
Our leadership team currently consists of the following, more adults are always welcome:
Kerry Davies (Beaver leader)
Kate Coulter (Assistant beaver leader)
Robert James (Colony Assistant)
Sonia Lawes (Group Assistant)
Caitlin Wilson (Colony Assistant)
Thomas (Young Leader)